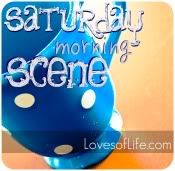 This is my first time participating in the Saturday Morning Scene, so here it goes!
This morning, I got up and decided to shower and get ready before the Kage-Monster awoke. It worked out perfectly! So when she got up, I dressed her and out the door we went. I took her back to the
park that we visited a week or so ago
and we brought the left-over loaf of bread to feed the kak-kaks.
Have I mentioned how much I love our town?
It was a beautiful morning and beautiful mommy and baby time.