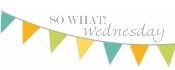 Link up with Shannon at Life After I "Dew" and join me in saying So What...
I have succumbed to laziness and decided to have my work pants dry cleaned each week. Ironing takes too much time--which I already don't have enough of.
I was totally bummed when I found out that our neighbors were moving to New Mexico. They were our "in a pinch" sitters for Kage. Boo.
We're so wishing we could ditch our marriage counseling appointment tomorrow and watch Survivor instead.
I have enjoyed a lovely Bud Light Lime every night for the past several days.
I'm totally jealous of the blogs that have a zillion followers. How do you do it?
I have doubted my decision to be a teacher a few times this week already. It's a tough week.
I am consumed with ideas for Kinley's birthday gifts, but zero desire to plan a party.
Now that Kinley is weaned off of the pacifier (or it seems that way), I am terrified that our next order on the agenda is potty training. Ugh.
I rocked out to Debbie Gibson today. Don't worry, I was alone.
I did a rap with my students today about the heart. This girl...can't rap.
My new shoes gave me a blister on my "ring toe." And yes. I call it my ring toe. Dumb. I know.
Even though neither of us admit it, I guess we tried getting pregnant this month. And I'm reminded of how much I loathe the two week wait. Almost over.
I love the way that Kinley screams "Mom" and it's even cuter when we're in the grocery store and I'm out of her sight. She look for me and calls out "mom! mom!" in that sweet voice!