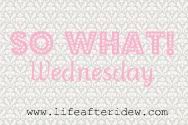 So what if....
I have been the laziest person known to man during my summer break. It's a BREAK, people!

I could do back flips because I'm so excited for my hair appointment on Friday. I'm going to hopefully do something a little different. But we'll see.

I have had more school drama this week and because it makes me cry when I think about it, I haven't blogged it.

I complain about my body every day, yet it didn't stop me from consuming the oreo blizzard last night.

And there are dilly bars in the fridge. Ugh.

I have had the worst sore throat for days and I think it must be allergies. Even though I have no idea what that really feels like because I've never had to deal with allergies before. But no other symptoms...... And no I haven't taken anything....I'm still in the complaining stage.

I'm still too chicken to introduce myself to Mr. Upstairs Neighbor. So I had a beer by myself on the patio last night. Lame.

I use my daughter as an excuse to not have time for working out.

I have a strange crush on

Carter Evans

from ABC News (and CNN). I love his dry humor.

I seriously want to get Botox. But probably can't afford it.

I'm boring myself with this week's SWW. Peace out.