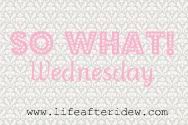 Join me this week in saying So What!, stop by Shannon's at Life After I Dew to link up!

This week, I am saying So What if...
I wanted to cry when I heard Kage up at 6:30. I just want some me time!

I totally lost my cool yesterday. I have never been so frustrated as a mom.

I feel like I'm totally failing as a mom. My daughter hits me. My daughter throws things at me.

I tried putting her in her room for a time-out (since the naughty spot wasn't working) and she threw up from crying for the whole 30 seconds that she was in there.

I don't want today to be a repeat of yesterday.

I don't want to think about yesterday.

I am excited about student teaching....but still waiting on a placement.

I have allowed myself to "pretend" that I know what district I am going to.

I have two books from the library that I wanted to read for the remainder of my "summer break" and haven't had the time to even open one.

I didn't take a shower yesterday. Kinley was up at 6:15 and took a whopping 40 minute nap. I chose to sit and do nothing for those 40 minutes (anticipating it being a 2.5 hour nap).

I joined that trend on FB, "You grew up in ____ and remember...." and had so much fun reminiscing last night.

I have so much that I want to blog--but baby-free time to do it. Sad face.