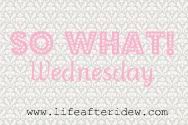 if I'm up reading blogs before my contacts have actually adjusted to my eyes being open. Yes, I sleep in them. Yes, I know it's bad. so what.

if I am being a total baby about my presentation group in my class. I can't stand two of the members and want to kick them out of my group.

if I just scalded my tongue on my coffee. It was worth it.

if this whole budgeting thing sucks. I mean, Sucks--capital S. I need to get out of school!

if it makes me cry to think about weaning Kage off of her paci. More on that later.

if I'm always tempted to call the Pastoral line on K-Love but chicken out every.single.time. Why?

if I am so excited about our therapy session tonight. It's become less of an annoyance and more of a celebration.... does that make sense?

if I realize that I was 99% of the problem in this marriage. Ugh. At least I admit it.

if I suck. I'm trying to be better.