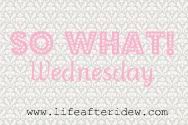 So What if....
I deleted my facebook. Well, deactivated. He said that I spend too much time on social networking. So I'm proving that it's not as important to me as he thinks.

I'm loving the whole tanning bed package that I bought. As much as I know about the
negative parts of fake baking, I still love it. I can lay in the warm bed and pretend I'm on a tropical beach. Love.

The scale hasn't changed that stupid number that it shows me every morning, I am feeling
better about myself. I have kept up my gym attendance every day since joining.

I almost do a rockstar dance when I hop off of the elliptical after completing 30 minutes on that bad boy!

I took a spin class over the weekend and was praising God when I had to be called out of class
to change K's poopy diaper. (the childcare at the gym doesn't do food or diapers) The spin almost killed me.

I have two job interviews this week. Ugh.

The big state test for my teaching certification is this weekend. And I've decided to "wing it." Probably not the smartest decision I've ever made. But how do you study for that big of a test. Really.