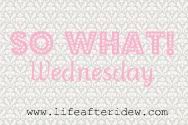 It's that time of the week again! Time to link up with Shannon over at Life After I "Dew" to say So What...
This week, I am saying So What if...
I am so excited for tomorrow's gyno appointment. They are taking out my Mirena!

that means that I can test the fertility waters. I'm so curious to see how messed up my body is post-baby.

I really am excited to officially be TTC.

(trying to conceive to those not in "the know.")

we aren't telling our families that we're TTC. My family would freak. His would celebrate.

I am still not placed for student teaching that should be starting in around 3 weeks. Okay, so that isn't really a So What...cause I'm freaking out.

I devoured an entire chocolate peanut butter milkshake last night. Then had a tummy ache.

I cancelled my gym membership to save money.

we are broke as heck, but still planning a graduation vacation to Mexico the first week in January. We never had a honeymoon, so we really need this.

my car looks ghetto. This stupid piece broke and the husband hasn't had the chance to get a new one. And I wouldn't even know where to start to find one.
Ugh. So embarrassing.
I got to know the coolest girl ever in my summer class, but due to living over an hour apart, our friendship would be so hard to maintain. Her and I have so much in common. :(

the above mentioned girl and I were having a crab-fest walking out of class yesterday about this guy in our project group. He is such a loser and is totally riding our coat-tails through this project and putting forth zero effort. What we didn't know was that he was walking out behind us. Oops.

I am hating Blogger last night and today. I'm unable to comment on anyone's blogs AND it ate this post and wouldn't publish. Listen here Blogger, them are fightin' words!

if I got totally excited for my new followers this week! New followers and comments make my day. *hint, hint* :)